4985 Pittsburgh Ave
Erie, PA 16509
United States
CATEGORIES & HEADINGSdetails >>
Trans-Tech is a manufacturer of LED signs and displays for the transportation and parking industries. Our transportation signs and signals are engineered with narrow angle, high-performance LEDs for superior readability in all lighting conditions from a distance of more than 1000 feet.

What sets us apart is our unique ability to customize any LED sign to your specifications, with a fast lead-time. And to maximize your investment, we practice green engineering techniques which extend the life of our LEDs and reduce their energy consumption.

We have the versatility to manufacture signs which conform to MUTCD standards or to your exact specifications and offer same-day shipping on in-stock items.

Regardless of the number of signs needed for your project, Trans-Tech is pleased to assist you, and will strive to make sure all your needs are met.

Vendor Showcase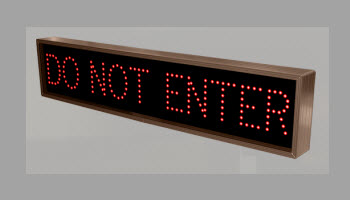 This TCL Series DO NOT ENTER outdoor, blank-out sign is designed with super bright LEDs and a contrasting face; we guarantee it's readable in direct sunlight. The sign message is formed by visible LEDs on a black sign face and is designed to illuminate the message(s) when turned on and blank out or extinguish the message when off.

It is engineered with a solid-state circuit board and switch-mode power supply for maximum LED life. The cabinet is constructed of corrosion-resistant, extruded aluminum and ships with our Lift'N Shift back for wall mounting. Ceiling, post and wall-projection mountings are available. Standard cabinet finish is Duranodic Bronze; custom paint finishes are available. Sign can be controlled by a switch or third-party relay. Control switch can be purchased separately. UL/cUL Listed for wet locations. Manufactured in the USA. read more